The MBX Magazine and Incredible BUL Cherokee 9mm Accessories

Here Is Why the MBX Magazine and Metalform Magazine Are So Remarkable
Metalform has been supplying the military industry for over 50 years and has established itself as one of the most reliable suppliers of pistol magazines in the world.
Metalform sells ultra-reliable, high-end 1911 magazines to major Original Equipment Manufacturers like Kimber, Colt, Smith & Wesson, and others, so you might already have a couple of their magazines whether you realize it or not.
As a result, Metalform magazine provides the same degree of dependability and performance as your factory-installed equipment.
Metalform has the magazines you're looking for at costs that are hard to top, with a wide assortment of magazines suited for anything from competition to concealed carry, duty use, and more.
Moving on, to ensure that it rests at the correct height within the frame from BUL Armory, MBX built a specific competition-ready magazine. This places the bullet in the best possible position for smooth, consistent feeding and reliability.
The tubes in an MBX magazine are designed to be competition-ready, with special features to suit today's shooter's highest needs. There are also Witness Holes on the back of the tube to show the total number of tubes.
What Are Some Iconic Glock and BUL Cherokee 9mm Accessories?
No fantastic ensemble is complete without a few good accessories. Let's look at some of the most useful Glock and BUL Cherokee 9mm accessories out there.
BUL Cherokee 9mm Small of the Back Leather Holster (Full-Size)
This is the top-of-the-line holster from America's largest holster wholesaler! This holster is composed of the highest quality leather and nylon. It comfortably fits your rifle, and its well-made workmanship is unrivaled.
The pistol in the picture may not be the same as the one in the picture.
Cowhide of the highest quality
Fits up to a 1 34" belt
Muzzle sweep is discouraged by the palm-in draw design.
Both right and left-handed versions are available.
It has a small footprint and is easy to conceal.
Wiley X Saber Advanced Grey Lens/Matte Black Frame
This brilliant piece is another highly useful item among the many great BUL Cherokee 9mm accessories. High Velocity and Mass Impact Standards, High Speed at Temperature Extremes Standards, and US Federal Standards all apply to these shatterproof Selenite Polycarbonate lenses.
In harsh situations, the lens coating resists scratches and provides you with distortion-free clarity and 100 percent UVA/UVB protection. Another great feature is the Adjustable Nose Piece that can be used on any face/nose bridge.
It also has fully adjustable telescoping temples that fit a wide range of head sizes, have a low profile, and are compatible with NVGs (Night Vision Goggles). The Smoke Grey Lenses Reduce Glare to the Max with no color distortion: 15 percent light transmission as well.
Magpul SpeedPlate
The Magpul SpeedPlate provides for quick magazine removal and secure handling and also protects the magazine's base from damage. On all factory Fully Metal Lined (FML) GLOCK 9mm and.40 S&W double-stack pistol magazines, the SpeedPlate replaces the floorplate.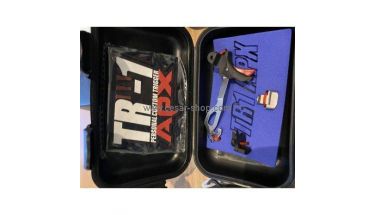 Where Is The Beretta APX Trigger Primarily Used? The Beretta APX semiautomatic pistol features a modular, serialized chassis frame that can be easily customized with replaceable grip frame...